Protect your patio furniture, customers, and sales this season by being prepared for whatever Mother Nature throws your way. Whether it's sunny and bright outside or dark and gloomy, this is the perfect time of year for businesses to think about purchasing a retractable awning or retractable canopy. Here are some important tips to keep in mind when purchasing an awning or canopy:
Custom Design & Manufacturing
Here at Gallagher's Awnings, we have 30 years of experience designing and manufacturing awnings for commercial and residential use. From entrance and window awnings, to large awnings and canopies for your patio or dining area, we can custom create the perfect awning for your business's needs, branding requirements, and building specifications.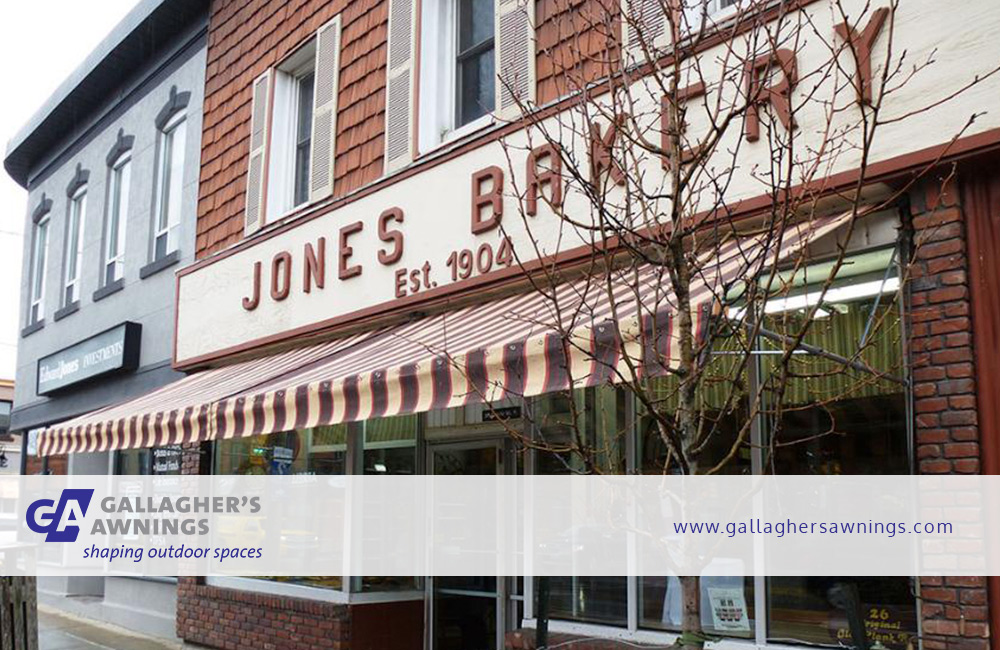 Professional Installation Services
Gallagher's Awnings also offers professional installation services. Our installation experts can install our products in a variety of locations and environments. Whether your business's location has brick, aluminum, or stucco exterior, we can get the job done. We also offer awning put-up, take-down and storage services, on top of our 3-year warranty, to ensure your awning is protected all year long.
Types Of Commercial Awnings
At Gallagher's Awnings, we can create custom commercial awnings of any shape, size, and style for your entrance way, windows, or outdoor dining area. Here are the types of awnings, canopies, and add-ons/additions we can customize for your business:
Retractable System
Triangular
Backlit (awning addition)
Concave
Curtains
Entrance Canopy
Quarter Ball
Quarter Round
Retractable Awning
Rounded Top
Soffit (awning addition)
Stationary Pipe Frame
Graphics (awning addition)
Stationary Welded Frame
Water Resistant Awnings & Retractable Canopies
Water resistant awnings and retractable canopies can help to keep your outdoor furniture safe from the harsh elements by providing protection from the rain. By keeping your furniture well-protected, you can reduce the risk of your furniture being damaged, which can be costly to replace and brings down the aesthetic of your business.
Water resistant awnings and retractable canopies are also perfect for customers to hide under to get away from the rain when they are waiting outside for a ride home or hanging outside with a group of friends or family. They are also perfect for extending your property's useable space for gatherings or events – allowing your business to run as usual no matter the weather outside.
Gallagher's Awnings: Get Custom Patio Canopies or Retractable Awnings in Toronto
Gallagher's Awnings offers custom awnings that can be made using high quality, fade resistant fabrics that create a more comfortable experience for outdoor gatherings. With over 30 years of experience, we design, manufacture, and install custom retractable canopies and retractable awnings in Toronto and the south-central Ontario area. Contact us today to book your complimentary consultation and to receive a personalized quote.