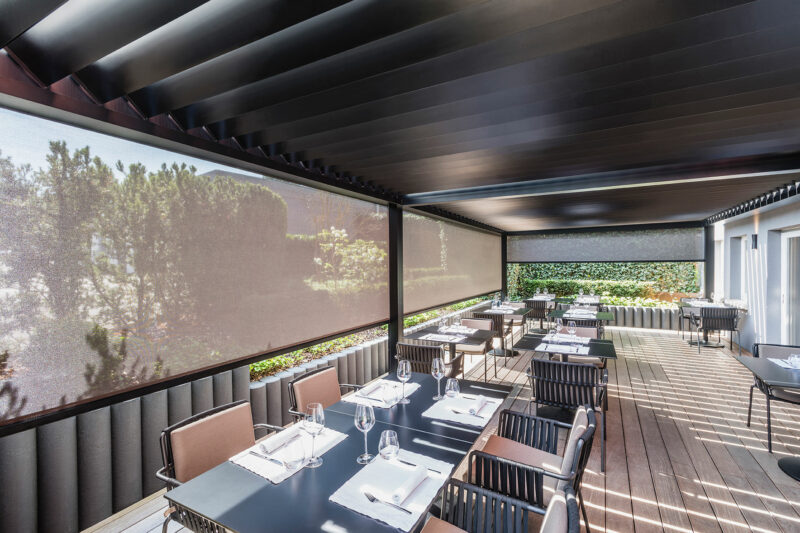 Roller screens are becoming a popular choice for homes and businesses in Toronto, Hamilton, and Southern Ontario. Designed specifically for exterior applications, they serve as a protective layer, a curtain of convenience, and a stylish statement all at once.
At Gallagher's, we believe in quality and variety, which is why we work hand-in-hand with top-notch suppliers such as Progressive Screens and Talius, among others. Our extensive range of roller screens ensures that whether you're seeking a standalone product or wish to complement one of our exquisite aluminum louvred pergolas, we have something tailor-made for you.
Why Roller Screens?
Comfort and Protection: Roller screens have the innate capability to provide shade, ward off the relentless UV rays, and ensure a significant reduction in your cooling bills, thanks to the climate control advantage.
Beauty with Benefits: With their sleek design, these screens seamlessly blend with your building's exterior, enhancing its aesthetic appeal while providing unparalleled privacy.
Ease of Use: If you thought their purpose was impressive, wait until you experience their hassle-free operation. Convenience at its best!
Roller Screen Features
Motorized Operation: Extend your screen at the touch of a button – the ultimate in convenience.
Advanced Control: Enhance your experience with options for remote control, allowing you to adjust as you lounge. And for those unexpected weather changes? Rain and wind sensors have got you covered.
Customized Aesthetics: Our screens come in an array of materials, colours, and finishes. This ensures they don't just fit your space physically but also resonate with its essence.
Precision Matters: At Gallagher's, we understand that one size doesn't fit all. That's why every screen is made to measure, ensuring a snug and perfect fit.
Where we use Roller Screens
Versatility in Application: Whether you're considering sprucing up your windows, patios, or even garages, roller screens fit the bill.
Elevate Your Pergolas: Our aluminum louvered pergolas, already a class apart, can be enhanced with the addition of these screens.
Business Brilliance: For restaurants, roller screens can transform patios into luxurious dining experiences. Other businesses too, find an ally in them to manage sunlight and aesthetics.
Home Comfort: Create pockets of comfort in your homes and patios, ensuring you make the most of every space, every time.
Explore More with Gallagher's
Intrigued? We thought so! Visit our Project Gallery for a visual journey through various roller screen applications, both for homes and businesses across Toronto, Hamilton, and wider Southern Ontario.
Ready to redefine your space? The Gallagher team awaits. Contact us today for a personalized quote.