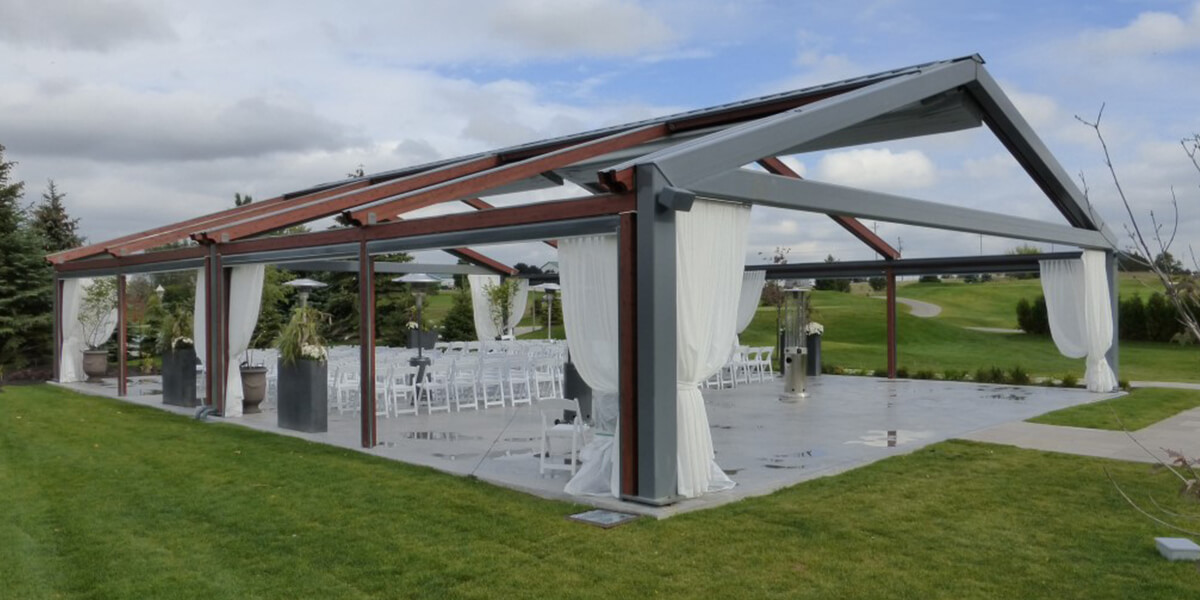 Imagine taking the classic allure of a wooden pergola and infusing it with a modern sensibility, creating an outdoor structure that is as functional as it is beautiful. That's precisely what you get with a Pergotenda®. Beautifully tailored for the hospitality industry, including restaurant patios, resorts, and spas, these pergolas — available in 45, 60, and 100 models by Corradi — offer the perfect blend of style and utility. Ideal for businesses in Burlington, Oakville, Toronto, and the broader GTA, the Pergotenda also adds a touch of luxury to select residential applications.
Why Choose a Pergotenda?
At first glance, a Pergotenda is an embodiment of the classic, timeless style of wooden pergolas. Crafted with Scandinavian laminar pine wood, its frame resonates character that can become the essence of any outdoor space. But look closely, and you'll discover contemporary enhancements that place it a cut above the rest.
With a motor-driven operation and remote control functionality, a Pergotenda brings modern convenience to this traditional structure. You can effortlessly retract or extend the roof as the weather changes, ensuring the comfort of your guests or family at all times.
In terms of customizability, Pergotendas offer a wealth of options. Whether it's additional features like LED lighting, privacy screens, decorative faux ceilings, or extra water drainage options, a Pergotenda can be tailored to your precise needs. Frame colours are varied too, spanning from chestnut and walnut to anthracite and white.
But the crowning feature is undeniably the Eclissi blackout fabric canopy retractable roof. This stunning roof can provide the perfect shade during a sunny summer day or protect you from a sudden autumn drizzle, extending the usability of your outdoor space.
Can a Pergotenda be Used Year-Round?
While the Pergotenda is optimally designed for spring, summer, and fall, it can weather light winter conditions with proper care. It's a three-season outdoor solution that makes the most of the warmer months while adding charm to your space during the colder ones.
Pergotenda in Action: See for Yourself
Let us take you on a virtual tour of some of our signature Pergotenda installations across Toronto, Burlington, and Hamilton.
Our first stop is Bar Raval, a Barcelona-inspired pinxto bar in Toronto, ON. Here, the P45 Pergotenda nestles perfectly in the bar's exterior, providing a cozy canopy for patrons to savour their drinks.
Next, we visit the Earth to Table Bread Bar in Hamilton, ON, where the P60 Pergotenda integrates seamlessly with the restaurant's unique aesthetic, offering diners an upscale outdoor dining experience.
Last, but definitely not least, we take you to the grand Whistle Bear Golf Club in Guelph, ON. At this prestigious venue, the P60 Pergotenda serves more than just an aesthetic purpose. It transforms into a striking outdoor events space, capable of hosting large-scale events, such as weddings. This pergola stands as a testimony to how function and form can come together to create a truly exceptional experience.
Discover the Pergotenda with Gallagher's
Are you intrigued by Pergotenda's blend of classic and modern aesthetics? Visit our project gallery for more photos and examples of how this remarkable structure could transform your outdoor space. For a personalized quote and needs analysis, don't hesitate to contact Gallagher's Outdoor Patio Structures. Experience the beauty of Pergotendas and enhance your outdoor living today.