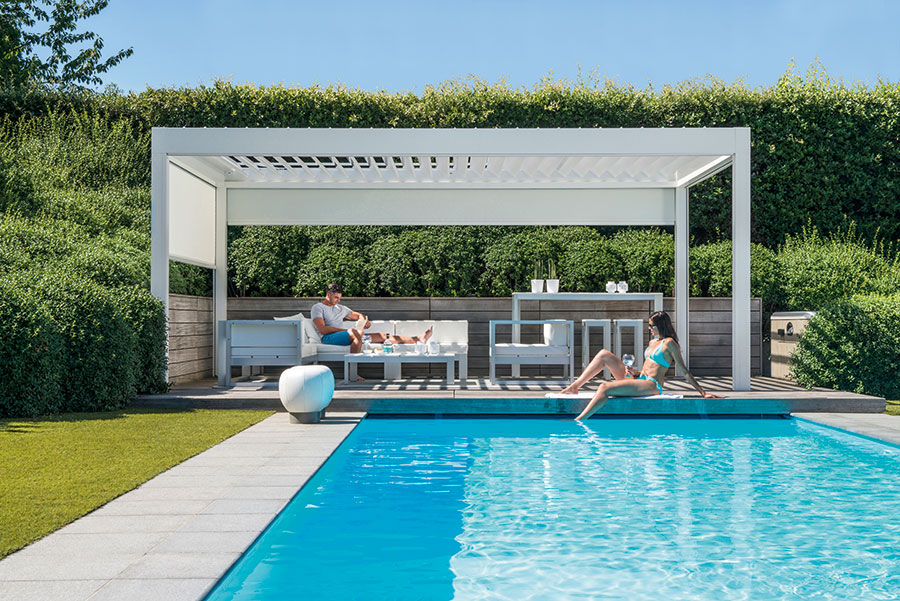 Have you ever dreamt of a high-end outdoor living space that combines European design, premium quality, and personalized add-ons? An Aluminum Louvered Pergola might be just the solution for you.
This sophisticated structure is a popular choice among residential and commercial customers alike. It's especially loved by those in the hospitality and restaurant industry, adding a touch of luxury to any outdoor space. And for residents in Burlington, Oakville, Toronto, and surrounding areas of the GTA, it's a game-changer for outdoor living.
Why Choose a Louvered Pergola?
There are countless reasons why an Aluminum Louvered Pergola should be your top choice for an outdoor structure.
One of the key features of a louvered pergola is its adjustable roof. The louvers can rotate and open or close to create the perfect conditions for your outdoor space. Looking for shade or UV protection? Just adjust the louvers to limit sun exposure. Need rain protection? Close the louvers completely to create a waterproof outdoor area.
Models like the Camargue® Skye® by Renson take this flexibility to another level. Their roofs are fully retractable, providing a completely open patio when desired. With the click of a button, you can control the amount of sunlight or shade, ensuring optimal comfort at all times.
Furthermore, the benefits of aluminum as a material are far superior to that of wood. Aluminum is resistant to rust, can withstand extreme weather conditions, requires minimal maintenance, and lasts for years.
Customizing Your Louvered Pergola
The customization possibilities of a Louvered Pergola are endless. You can enhance your outdoor experience with add-on accessories such as heating systems for chilly nights, speakers for entertaining, LED lighting for ambiance, and remote controls or mobile apps for convenience.
Side elements offer even more customization options. Choose from screens, sliding panels, glass walls, fixed walls, or outdoor curtains to add privacy and protection from the elements. Personalized colours and finishes ensure your pergola blends seamlessly with your property's aesthetics.
Can Louvered Pergolas Be Used Year-Round?
While Canadian winters can be unpredictable, Aluminum Louvered Pergolas are rated for three seasons. This means you can enjoy your outdoor space from spring through fall, and even on warmer winter days.
What Does a Louvered Pergola Cost?
The cost of an Aluminum Louvered Pergola varies based on several factors. This includes the specific brand and model, size, and chosen accessories. At Gallagher's Outdoor Patio Structures, we help you find the perfect solution for your needs.
We proudly offer premium brands like Renson, Corradi, and Alpha. While our price point may be higher than some budget brands, the product quality, available accessories, warranty, and service are unmatched. Investing in a Louvered Pergola means investing in a durable, luxury outdoor structure that enhances your lifestyle and property value.
Are you ready to create the perfect outdoor living space with an Aluminum Louvered Pergola?
Contact us today to inquire about more details and receive a personalized quote. Transform your outdoor area into a European-inspired haven right in Burlington, Oakville, Toronto, or anywhere in the GTA.