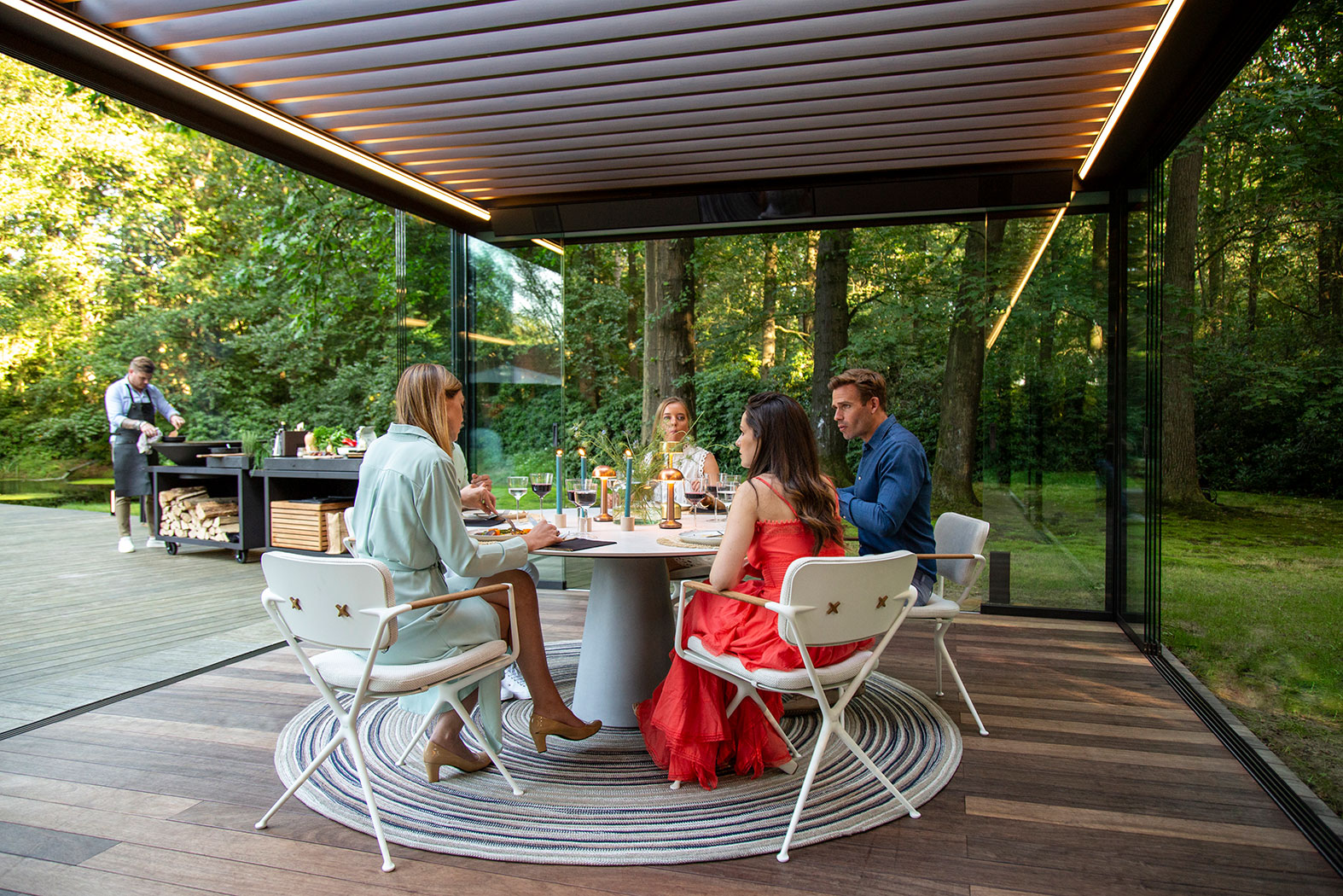 The Aluminum Louvered Pergola is a rising star in Canadian backyards. This isn't just another patio fad; it's a game-changer for anyone who takes their outdoor living seriously. Why are Canadians falling for these modern outdoor marvels? Stick around, and we'll go over the top 10 reasons you'll likely want one for your patio or deck too.
1. Versatile Weather Protection
One of the biggest wins with these pergolas? Their adjustable louvers. With a simple touch of a button, you can close them up to keep out rain or scorching sun. This means you can enjoy your outdoor space through spring, summer, and fall—even on those unusually warm winter days.
2. Enhanced Outdoor Living
Imagine being able to extend your living room into your backyard. That's basically what an aluminum louvered pergola lets you do. You can invite friends over for an alfresco dinner or lay back with a book, all while being shielded from the elements.
3. Aesthetic Appeal
These pergolas are designed to seamlessly integrate with your existing outdoor decor. With a range of colours and finishes available, you can easily find a style that complements your home or business perfectly.
4. Energy Efficiency
Here's something you might not have thought of: these pergolas can actually help you save money. How? By controlling the amount of sunlight that goes into the adjoining rooms, you can cut down on those energy bills.
5. High Durability
Let's face it, Canada's weather isn't the friendliest. That's why at Gallagher's, we only partner with suppliers known for the highest quality, including Renson, Corradi, and Alpha Design & Shadow. Thanks to this, our aluminum pergolas are not just robust but also resistant to rust and warping. Your pergola will withstand the elements and keep looking as stunning as the day you installed it, year after year.
6. Low Maintenance
Tired of yearly paint jobs and regular wood treatment? Well, you can skip all that fuss with an aluminum pergola. A simple hose down is usually all you need to keep it looking fresh.
7. Automated Convenience
Today's pergolas have entered the digital age. With motorized options, you can control the louvers with a smartphone app or remote control. Just imagine adjusting your pergola without even leaving your sun lounger. Talk about convenience!
8. Added Property Value
Let's talk long-term. Adding a structure like this isn't just about immediate satisfaction. It's an investment. You'll likely see a bump in your property value because future buyers will love it as much as you do.
9. Privacy Options
If you're in a busy neighbourhood, privacy might be a concern. But guess what? Aluminum louvered pergolas have options for integrated screens or curtains. Your cozy retreat can stay just that—a retreat.
10. Customization
One size doesn't fit all, especially when it comes to outdoor spaces. These pergolas come in various sizes and offer tons of add-on features, from lights to heaters. You can customize the structure to fit your life, not the other way around.
We've only scratched the surface of why Aluminum Louvered Pergolas are becoming a staple in Canadian outdoor spaces.
From the smart design to the practical benefits, it's no wonder Canadians can't get enough of these innovative structures.
Interested in seeing one up close? We invite you to book an appointment and visit our showroom. Trust us, it's even more impressive in person. Click here to get in touch.